Welcome to
Sweet Blossom Alpaca Farm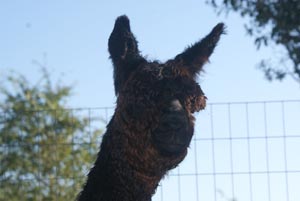 Sweet Blossom Alpacas is now located in Dade City, FL where we have much more nice pasture space for our alpacas. Our 15 acre farm is just north of Tampa and Orlando and conveniently minutes off of I-75. We followed the same path that many alpaca owners probably took by visiting local alpaca farms, learning as much as we could without being full fledged alpaca owners before we decided to jump into this amazing alpaca world. We love taking care of and working with the alpacas, and the never ending learning experience as well as networking with other alpaca farms. We are dedicated to continuously improving the genetics of our herd via a well thought out breeding program. To learn more about alpacas and see our wonderful "blossoms", please give us a call to schedule a time to come by. We'd love to share any information about alpacas with you, what we've learned throughout our journey into the alpaca world, and answer any questions you might have.
LOOKING TO RAISE ALPACA? Click here to read our Frequently Asked Questions (FAQs)(link) document to learn a bit about alpacas. Of course, if you would like to see alpacas in a natural setting and/or what is involved in an alpaca farm operation, please don't hesitate to contact us.
Alpaca Farm Tour
December 11 & 12, 2021
11:00 a.m. to Noon
Please join us for our monthly Alpaca Farm Tours on December 11th and 12th - tour starting at 11:00 a.m. Eastern. No reservations or tickets needed. No cost but donations gladly accepted!! Come see lots of alpacas and llamas, take pictures with them, possibly feed them (if it's not too hot), and just enjoy the peacefulness of them. NOTE: No dogs allowed on farm property - our alpacas are extremely fearful of unfamiliar dogs.
We were featured on Charley's World - Fox 13 Tampa Bay with Charley Belcher on 4/27/2021 - had a great time visiting with the alpacas and llamas. And, if you want to see more great alpaca video, check out our live interviews with Jen Epstein's One Tank Trip, Fox 13 with Charley Belcher, Channel 8 with Anthony Allred, and last but not least a 2016 story on Channel 8 (WFLA) that aired on April 28, 2016 - promoting awareness of alpacas and how wonderful the lifestyle of raising alpacas can be.


Be sure to check out some of our Alpaca Socks, Scarves and Yarn – click on the "SHOP" link above.

CONGRATS to the alpacas that have been sponsored the last 12 months:
DAZZLE: sponsored by Stacy (Oct 2021)
SAKARI: sponsored by Lily (Oct 2021)
JADE: sponsored by Belinda (Oct 2021)
TOBI: sponsored by Christina (Aug 2021)
LILY: sponsored by Stevie (Dec 2020)
CHOLITA: sponsored by Deanna (Dec 2020)
TOBI: sponsored by Jessica (Nov 2020)
Check out our cute crias (babies) pictures..
Check out our two fantastic Herdsires: Kahuna's Casper and Full Accoyo Sawyer. Both are white herdsires with impressive bloodlines. Casper is out of Pucara Kahuna who is one of the best known herdsires in the US, and Sawyer was sired by the National Grand Champion, Accoyo Kalvin (from the Jackpot line). We have other great Herdsires to consider as well – Armistice, MoJo, Cinder's Dark Knight, Kontiki, Thunder, and Choco, – all ready to bring their best to your girls. Give us a call to arrange a breeding.


Associations:
Alpaca Owners and Breeders Association
The Suri Network
Florida Alpaca Breeders Association
Alpaca Registry
Helpful Articles/Tools:
Breeding Color Calculator
The Alpaca Registry (see link above) has a wealth of information.
Second Thought Farming
A Modern Take on Farming



Follow Us on Facebook